With the lockdown ending (sort of – hopefully), we shut down The Howff, our sticky-carpeted fictional lounge bar that brought in Saturday night playlists, poetry, music and music. art to your fuzzy minds while we were all locked in domestic hell / utopia (delete if applicable). You can grab a McEwan's Export and take a leisurely look at Howff's back catalog while remembering the lockdown experience here.
The Howff started on March 29, 2020 with the epic Groove On playlist, our first featured artist was Iona Fyffe, and we had other Holy Mountain music from Chemikal Underground and an Optimo playlist from On U Sound as well as a new movie. of the new artistic association of Angus Farquhar. Aproxima, poetry by Jim Monaghan and a creative toolkit for "sharing ways to be creative for those who find themselves isolated" by Alec Finlay. Other glories included an exclusive Bella from Kid Carpet's Van Halen Cover of Jump with Ivor Cutler – a digitized version of Hanna Tuulikki Air falbh leis na h-eòin | Away with the birds – epic artwork from Edinburgh, Dundee and Aberdeen – and Pondlife and # DOCAM080 among many other ephemera from corona culture
But if the Howff last called out the latest commissions, that doesn't mean we won't continue to bring you tons of music and good stuff every weekend by showcasing artists who survive and navigate these weird times. . The first is Robin Miller, born in South-Uist and formerly of the Glasgow world music group Zuba. Their acclaimed 2005 album "Go" was the JPF African Album of the Year award and has been described by Bob Harris as "really brilliant".
Here, solo and acoustically, Beelines is Miller's mesmerizingly beautiful debut album, which was recorded in Glasgow in just one afternoon. Robin was born in South Uist and raised in a remote part of Islay. "Half the island would go to monthly auctions – these started with cattle and ended with second-hand goods like old vinyl records. When I had some money stacking peat or chopping logs, this was where I bought the records that opened my imagination. This is how I first heard Bert Jansch and Nick Drake.
Moved to Glasgow in his late teens, Robin performed at night ("I loved the sound of the guitar bouncing off buildings and empty streets") and performed with folk groups on tour in France and Italy. as a session musician.
'Beelines' features thirteen skillfully melodic fingerpicking guitar tracks. It's a bit shocking to listen to pure raw natural sound without post-production. The tracks hint at the fingerstyle guitar of Bert Jansch, Davy Graham and John Renbourn, with hints of Hebridean heritage without losing any of Miller's mundane background.
The title song 'Beelines' refers to Robin's father's lifelong passion for beekeeping. The Moorish Jessie's Kaftan began in Glasgow and ended after a trip to Morocco. 'Rainer' is a moving slide guitar tribute to the late Arizona musician Rainer Ptacek. "Tigh-na-Beart" and "Birthe Marie Sails to Lunga" refer to the Western Isles – the metallic "Wyre Majestic" is a musical sketch of the famous rusty wreck caught on the rocks between Islay and Jura.
Buy the first single from the album here. Listen to the album on Soundcloud here: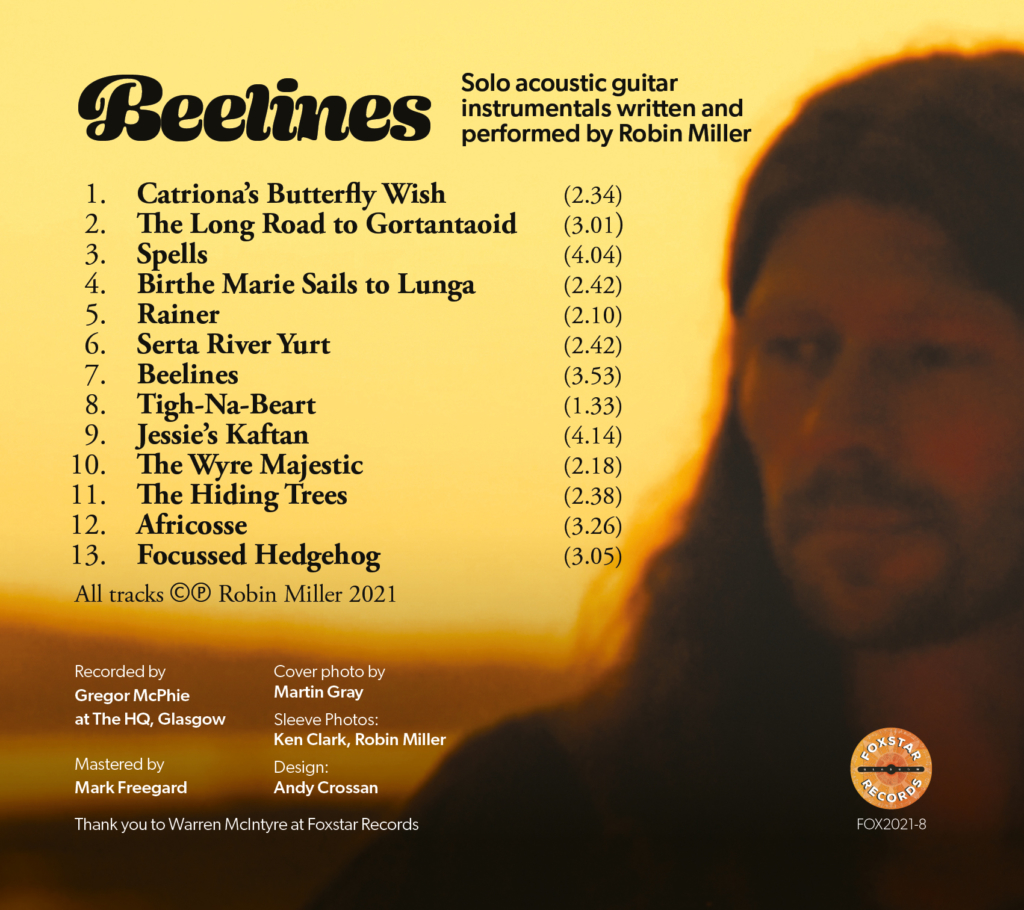 Source link